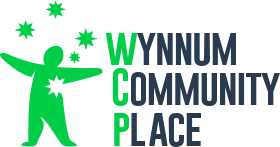 The NEW centralised Community Hub
Wynnum Community Place is the NEW centralised Community Hub which is bringing services together, connecting community, delivering social solutions as well as providing food relief and financial assistance. FREE services are available EVERY Tuesday, including; Food, Haircuts, Showers, Washing Facilities & Coffee!!!
This is a space that provides access to the supports YOU need in Wynnum; either directly or via a referral pathway, all from the one place!

Wynnum Community Place (WCP) is a non-profit community-based organisation funded by the Department of Communities, Disability Services and Seniors. WCP is an entity of Redland Community Centre (RCC) with it's Head Office located in Capalaba. RCC is a registered charity, public benevolent with DGR status with ACNC. The Wynnum Community Place is 'A Place for Everyone'.
Monday 9am-3pm
Tuesday 9am-3pm
Wednesday CLOSED
Thursday 9am-3pm
Friday 9am-3pm
Providing access to the support YOU need in Wynnum
The Wynnum Community Place supports the community through a number of valuable "one stop shop" community focused services including:

Emergency Relief (ER) is the provision of material or financial assistance to people in crisis. Some clients access ER to help them through a 'one off' episode; while for others, ER becomes part of their solution to deal with ongoing disadvantages.
The aim of ER is to assist people experiencing a crisis in a way that maintains their dignity and encourages self-reliance and promotes clients towards sustainability.
Wynnum Community Place delivers the ER program from 154 Bay Terrace Wynnum; every Tuesday from 9:00am -2:30pm.
The Redland Community Centre also provides ER food service from Head Office, 29 Loraine Street Capalaba; Monday, Tuesday, Thursday, Friday 10.00am – 2.00pm
whilst also assisting the Community Hub on Macleay Island every Thursday (9.30am – 2.30pm)
Please phone the Wynnum Community Place on 3387 2224 for more information.

Changing Lanes is a number of FREE services set up in the Laneway next to WCP available to community in need. Every Tuesday we have our local hairdresser Alex from South 87′ giving incredible haircuts, The Big Blue Bus offering hot showers and washing facilities, Hemmant Flexi School bring down their coffee cart and have their students gaining experience after obtaining their Barista qualification, so every community member that comes to support their coffee cart is helping these students apply for their future jobs. We have Mint Foods who cater gorgeous slices and the biggest tastiest muffins you have seen. We also have a BBQ lunch whether it be a sausage sizzle, burger or the very popular smoked chicken and coleslaw rolls cooked by Help Employment.
We also have a number of organisations that set up an outreach on the last Tuesday of every month in Changing Lanes to help you on your journey at Wynnum Community Place. We are trying to make it easy for you to access all services so we are bringing them all together at Changing Lanes.

Thursday Connect is designed to assist you link with services available in Wynnum and the broader communities for your specific need.

To have access to a full wrap around service from start to finish on your journey and have those supports walk it with you successfully.

To help you on your journey at Wynnum Community Place we are making it easier for you to access all services by bringing them all together at 'The Place for everyone in Wynnum'

We have a number of organisations that set up an outreach on the last Tuesday of every month in Changing Lanes or if you prefer to have a one on one appointment that can be booked in and completed every Thursday from Wynnum Community Place between 12.00pm to 2.00pm.

Alcoholics and Narcotics Anonymous Program
Come down every Thursday and meet Mick he runs our AA and NA program. Mick has lived experience previously living with addiction, homelessness and a number of lingering mental health issues. However Mick turned that all around and has now been sober 48 years, now taking in and supporting people who are going through what he did. He could not be a better avenue for support and advocacy as he understands exactly what help is required to brake the cycle.
Alcoholics Anonymous is a "one day at a time" way of living. We try to break life into small pieces we can handle. We stay sober one day at a time, or when necessary, one hour at a time. We do our jobs one task at a time. We solve our problems one problem at a time. We clean up our past one mess at a time.
Narcotics Anonymous. Perhaps you admit you have a problem with drugs, but you don't consider yourself an addict. All of us have preconceived ideas about what an addict is. There is nothing shameful about being an addict once you begin to take positive action. If you can identify with your problems, you may be able to identify with our solution.