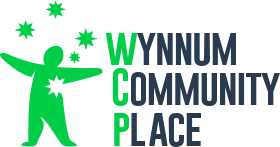 A centralised Community Hub
Wynnum Community Place is a centralised Community Hub which is bringing services together, connecting community, delivering social solutions, as well as providing food relief and financial assistance. FREE services are available EVERY Tuesday, including: Food, Showers, Washing Facilities & Coffee!!!
This is a space that provides access to the supports YOU need in Wynnum; either directly or via a referral pathway, all from the one place!
Wynnum Community Place (WCP) is an entity of the Redland Community Centre (RCC) with it's Head Office located in Capalaba. RCC is a registered charity, public benevolent with DGR status with ACNC.
Wynnum Community Place is 'A Place for Everyone
Monday Closed
Tuesday 9am-3pm
Wednesday Closed
Thursday 9am-3pm
Friday Closed
Providing access to the support YOU need in Wynnum
The Wynnum Community Place supports the community through a number of valuable "one stop shop" community focused services including:

Emergency Relief (ER) - Tuesdays and Thursdays
Emergency Relief (ER) is the provision of material or financial assistance to people in crisis. Some clients access ER to help them through a 'one off' episode; while for others, ER becomes part of their solution to deal with ongoing disadvantages.
The aim of ER is to assist people experiencing a crisis in a way that maintains their dignity and encourages self-reliance and promotes clients towards sustainability.
Wynnum Community Place delivers the ER program from 55 Berrima Street Wynnum every Tuesday & Thursday from 10:00am to 2:00pm.
The Redland Community Centre also provides ER food service from Head Office, 29 Loraine Street Capalaba – Monday, Tuesday, Thursday, Friday 10.00am – 2.00pm, and Wednesday 9:00am-12:00pm.
Please phone the Wynnum Community Place on 3387 2224 for more information.

Changing Lanes - Tuesdays
Changing Lanes is a number of FREE services set up at WCP (55 Berima Street, Wynnum) 
 9:00am-12:00pm each Tuesday to assist the community in need.
 Every Tuesday we have our businesses and organisation providing amazing support with FREE services, Orange sky offering FREE hot showers and washing facilities. . We also have a FREE BBQ lunch whether it be a sausage sizzle, burger.
We also have a number of organisations that set up an outreach on the last Tuesday of every month in Changing Lanes to help you on your journey at Wynnum Community Place. We are trying to make it easy for you to access all services so we are bringing them all together at Changing Lanes.

Thursday Connect is a program which is designed to make it easier for you to connect with various community services in the Wynnum community by bringing them all together in the same place – Wynnum Community Place.
The program runs drop-in style from 9:00am-12:00pm each Thursday – please contact WCP on 3387 2224 for information regarding what services will be in the centre on which Thursdays.