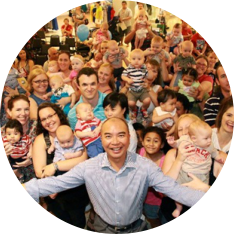 Serving the Redlands with Care & Understanding
Redland Community Centre is a non-profit community based organisation with its Head Office located in Capalaba.  Outreach service centres are located in Wynnum and on Macleay Island. We are endorsed by the federal government as a public benevolent institution and registered as a charity with the Australian Charities and Not for profits Commission (ACNC). The Centre generally provides services to people in the suburbs of the Redland City Council area, including the Bay Islands, and the Brisbane suburbs of Wynnum/Manly.
Making a positive difference in the community
The Centre supports the community through a number of valuable
"one stop shop" community focused services including:

Family Support
Focus on Families is the umbrella program under which all of our family programs are housed.  The Centre runs workshops around many of the common parenting challenges along with Create & Play mornings for interactive fun.

Emergency Relief
ER Packages assist people experiencing a crisis in a way that maintains dignity and encourages self-reliance. Some clients access ER to help them through a 'one-off' episode or for others dealing with ongoing disadvantage.

Counselling
Crisis counselling provides immediate, short-term help for those people who are experiencing an event that produces emotional, mental, physical, and behaviour distress or problems.

Courses / Programs
The Centre currently runs a number of courses and events from learning about how to become an author to making cards, art classes and becoming more aware of your emotions and mindfulness. Course information and costs can be found on our Events page.

Homelessness
The Centre provides assistance to the homeless daily via our ER program.  We have a range of products and services specifically designed to meet the needs of our homeless.

Self-Help Programs
The Centre is committed to providing programs that promote sustainable living and self-help. We have engaged with Mindfulness Australia and are running one of their introductory courses. Please look at our Calendar for dates.

Community Activities
From time to time the Centre partners with other organisations and participates in broader community type activities. We are always looking for ways to contribute to making the Redland community a better place.

Parenting Programs
Focus on Families is the umbrella program from which all of our family programs are housed.  The Centre runs workshops around many of the common parenting challenges along with Create & Play mornings for interactive fun.

Referrals Information
The Centre works closely with a number of government agencies including RentConnect and the Department of Housing.  Please take a look at our Links page for more information on what is available in your community.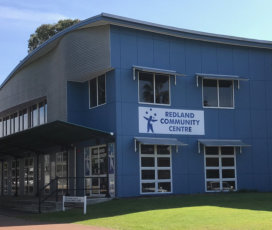 In 1977 the Cleveland Rotary Club formed a Drug Awareness Group in Cleveland. That organisation later changed its name to Redlands Awareness Group (RAG) to better reflect the diversity of needs to which it responded.
In Mid 1989 a need was identified for a venue where families and individuals could get together to discuss community issues and obtain welfare related information.
RAG responded to this need by submitting a proposal to the then Department of Family Services, Aboriginal and Islander Affairs – Division of Community and Youth to purchase premises in Capalaba. The proposal was successful and in April 1990 RAG, under sponsorship and funding from the Redland Shire Council, commenced operating from newly acquired premises at 29 Loraine Street Capalaba under the name of Capalaba Neighbourhood Centre, whilst RAG continued to operate out of Cleveland .
On the 25th of August 1990, the Capalaba Neighbourhood Centre was officially opened by the Minister for Family Services, Aboriginal and Islander Affairs.
Financial assistance provided to RAG by the Redland Shire Council ceased in June 1991. Alternative funding in the form of one-off grants from the Department of
Family Services and Aboriginal and Islander Affairs along with recurrent funding via the Family and Individual Support Programme (F.I.S.P.) was accessed.
Capalaba Neighbourhood Centre changed its name to the Capalaba Community Centre Inc. when incorporated on the 15th June 1992.
On the 25th of June 1996, the Capalaba Community Centre Inc. was invited to assume the affairs of RAG in Cleveland at which point the organisation again changed its name, this time to Redland Community Centre Inc., reflecting its wider geographic interests.
In June 1996 the local community in conjunction with the Redland Shire Council, Queensland Government and Life Line committed to a redevelopment programme that resulted in the present purpose designed community centre being constructed on the original site at 29 Loraine Street followed by an official opening in August 1999. The redevelopment of this site required RCC to relocate twice within the area whilst construction took place.
Since that time, valuable community based services have been provided from both the Capalaba site and leased premises in Cleveland under contractual arrangements with Queensland and Federal Government agencies supported by self-generated funding initiatives.
Our long standing and close association with relevant departments at federal, state and local government levels remain a priority commitment going forward in order to underwrite the continuance of the Centre's valuable services to the community.
MEET THE BOARD
The Board's role is to determine the strategic direction for the Redland Community Centre and to regularly review performance against agreed plans & objectives. It is responsible for appropriate allocation of funds received from grants and donations and for the acquisition and disposal of all assets needed to run the organisation.
The Board, in conjunction with the Centre Manager, maintains and regularly reviews all policies and practices impacting the day to day running of the organisation. Members of the Board are expected to support key initiatives through their direct participation in external activities where appropriate.
The Board generally meets at 5.30pm on the 4th Tuesday of each month. The AGM is usually held in September for all financial members and invited guests.
The following members were elected to the
Board at the AGM held in October 2019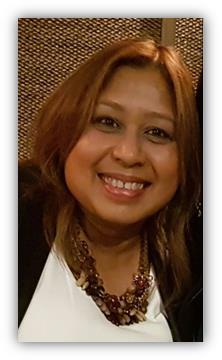 Joy In 1997, when I first arrived in Brisbane, I started volunteering at the Mater…