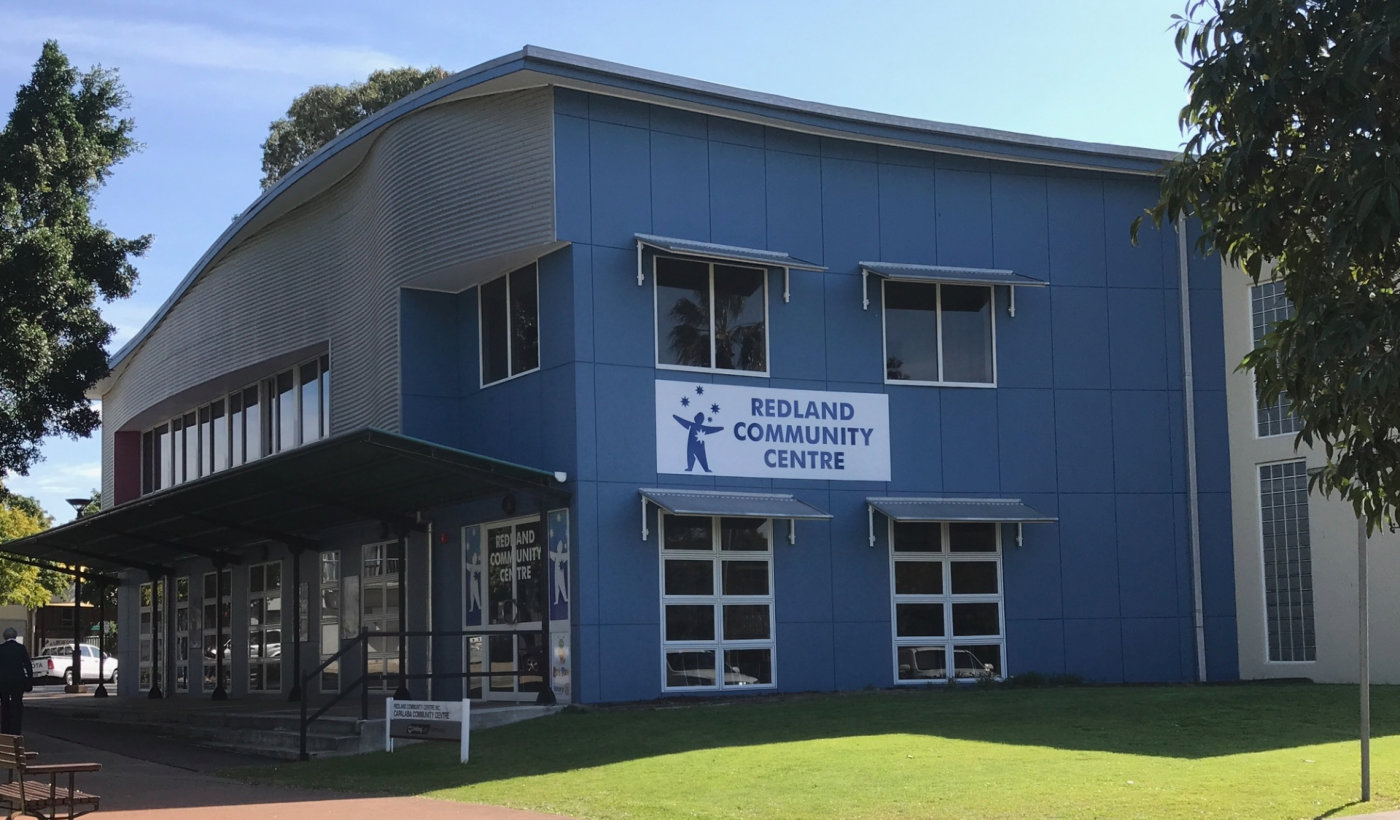 The perfect space for your next event
Redland Community Centre is conveniently located between two shopping malls and adjacent to the bus terminal (2 min walking).  The Centre has a number of different sized rooms available for hire on either weekdays or weekends.  Rooms are suitable for either smaller business type meetings to larger group training sessions/activities or organisational gatherings.
All rooms have disabled access and toilet facilities.  Level 1 rooms are easily accessed by a lift and/or stairs.  All of the rooms have natural light, with room rental inclusive of tables and chairs.  Equipment hire is also available including; laptop, tv, whiteboards and projector.  Wifi is free for all room hires.  A full kitchen is located on the ground floor, along with a children's play area with wooden play equipment on synthetic grass.
Tea and coffee with disposable cups is available at an extra charge.
*Within Business Hours 
Counselling Room 2 – Level 1
Small Office
Air-conditioned
Wifi
Meeting Room 2 – Level 1
Medium/Small Office
Air-conditioned
Wifi
Meeting Room 1 – Level 1
Large spacious room
kitchenette facilities (Tap, Kettle)
Air-conditioned
Wifi
Capacity for 2/3 tables
Activities Room – Ground Floor
Large spacious room, plenty of natural light with vinyl floor situated on ground floor
Kitchenette available with kettle and fridge
Air-conditioned and Ceiling Fans
Wifi
External access/entry
Seats approximately 40 (standard meeting format)
Capacity for 5 to 6 tables with seating about 5-6 per table
Outside Play Area available (extra charges may apply)
Approximate size of meeting room – 9 metres x 8.2 metres.
Training Room – Level 1
Large spacious room with carpeted floor situated on level one
Room has whiteboard
Wifi
Access via stairs or lift
Plenty of natural light
Air-conditioned
Seats approximately 25 (standard meeting format)
Capacity for 4 to 5 tables with seating about 5-6 per table
Kettle and small fridge in room
Approximate room size: 4 metres x 4 metres
Counselling Room 1 – Level 1
Smaller meeting room with carpeted floor situated upstairs
Access via stairs or lift
Air-conditioned
Office has whiteboard
Wifi
Seats approximately 15 (standard meeting format)
Approximate room size: 5.6 metres x 3.9 metres
NILS Room (Office space) – Ground Floor
Office on ground floor
Carpeted floor
Available for interview/meeting use
Air-conditioned
Wifi
Seats up to 4
Office has whiteboard
| | | |
| --- | --- | --- |
| NILS Room (Office space) | $25.00 per hour (minimum 2 hours) | $30.00 per hour (minimum 2 hours) |
| | $80.00 (1/2 day – 4 hours) | $110.00 (1/2 day – 4 hours) |
| | $150.00 (full day – 8 hours) | $180.00 (full day – 8 hours) |
| Community Room 1 | $30.00 per hour (minimum 2 hours) | $40.00 per hour (minimum 2 hours) |
| | $100.00 (1/2 day – 4 hours) | $150.00 (1/2 day – 4 hours) |
| | $180.00 (full day – 8 hours) | $250.00 (full day – 8 hours) |
| | Use of Kitchen – Free | Use of Kitchen – $25.00 |
| | $30.00 per hour (minimum 2 hours) | $40.00 per hour (minimum 2 hours) |
| | $100.00 (1/2 day – 4 hours) | $150.00 (1/2 day – 4 hours) |
| | $180.00 (full day – 8 hours) | $250.00 (full day – 8 hours) |
| | | |
| Counselling Room 2 (Office space) | $15.00 per hour (minimum 2 hours) | $30.00 per hour (minimum 2 hours) |
| | $50.00 (1/2 day – 4 hours) | $110.00 (1/2 day – 4 hours) |
| | $100.00 (full day – 8 hours) | $180.00 (full day – 8 hours) |
| Counselling Room 1 (Office space) | $25.00 per hour (minimum 2 hours) | $30.00 per hour (minimum 2 hours) |
| | $80.00 (1/2 day – 4 hours) | $110.00 (1/2 day – 4 hours) |
| | $150.00 (full day – 8 hours) | $180.00 (full day – 8 hours) |
| Training Room | $30.00 per hour (minimum 2 hours) | $40.00 per hour (minimum 2 hours) |
| | $100.00 (1/2 day – 4 hours) | $150.00 (1/2 day – 4 hours) |
| | $180.00 (full day – 8 hours) | $250.00 (full day – 8 hours) |
| Meeting Room 1 (Large) | $30.00 per hour (minimum 2 hours) | $40.00 per hour (minimum 2 hours) |
| | $100.00 (1/2 day – 4 hours) | $150.00 (1/2 day – 4 hours) |
| | $180.00 (full day – 8 hours) | $250.00 (full day – 8 hours) |
| Meeting Room 2 (Small) | $30.00 per hour (minimum 2 hours) | $40.00 per hour (minimum 2 hours) |
| | $100.00 (1/2 day – 4 hours) | $150.00 (1/2 day – 4 hours) |
| | $180.00 (full day – 8 hours) | $250.00 (full day – 8 hours) |
| Office Room 1 | $25.00 per hour (minimum 2 hours) | $30.00 per hour (minimum 2 hours) |
| | $80.00 (1/2 day – 4 hours) | $110.00 (1/2 day – 4 hours) |
| | $150.00 (full day – 8 hours) | $180.00 (full day – 8 hours) |
| Office Room 2 | $30.00 per hour (minimum 2 hours) | $40.00 per hour (minimum 2 hours) |
| | $100.00 (1/2 day – 4 hours) | $150.00 (1/2 day – 4 hours) |
| | $180.00 (full day – 8 hours) | $250.00 (full day – 8 hours) |