The below recipes have been produced to allow budget meals to be created from our food parcels. With the provision of a few items and staples from your pantry a nutritious meal can be made for your family. The Centre acknowledges the need to provide our clients with fresh vegetables, fruit and meat. Two new projects have enabled a Fresh Value and MEAT the Need parcels to be available as funds allow.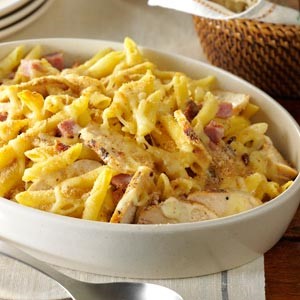 Ingredients:
1 pkt (400g) penne or macaroni pasta
2 cups shredded cooked chicken
OR 1 can (410g) tuna
OR 1 pack frozen vegetables
OR 1 can mixed vegetables
100g grated cheese
1 can (420g) condensed cream of mushroom or vegetable soup
Method:
Preheat the oven to 180c/360F.
Cook the pasta according to packet instructions, then drain and cool slightly.
Add the chicken, tuna or vegetables; half the cheese and the soup.
Season with salt and pepper to taste.
Pour into a greased 22cm (9 inch) baking dish and sprinkle with the remaining cheese.
Bake until the cheese is bubbling approx. 30 mins.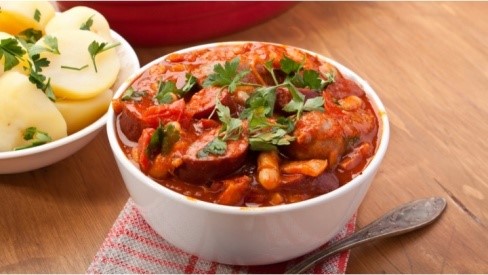 SAUSAGE AND BAKED BEAN SPECIAL
Ingredients:
454g pork sausages
1 onion, chopped
1 can (420g) baked beans
1 can (410g) red kidney beans
1 can (400g) chopped tomatoes
2 red capsicums
Method:
Cut sausages in half, peel and slice onion finely.
Place sausages and onion in a large flameproof casserole dish or large frying pan.
Cook gently for 10minutes, turning at regular intervals until sausages are browned and onion is soft.
Slice red peppers, add to hotpot along with the tin of tomatoes – cook for 5 minutes.
Add baked beans, drained kidney beans, continue to cook for a further 5-10 minutes
Serve with mashed potato or pasta.

Ingredients:
1 can (415g) baked beans
1 tablespoon light olive oil
1 small finely chopped onion
2 garlic cloves, crushed
1 red capsicum, deseeded and finely chopped
1 teaspoon crushed dried chilli
1 teaspoon Tabasco or chilli sauce (optional)
500 g mashed potato
3 tablespoons chopped parsley
125 g fresh breadcrumbs
vegetable oil
8 crispy rolls (or 16 slices of bread)
Salad leaves
2 tomatoes, sliced
Method:
Heat the oil in a non-stick pan. Add onion, garlic and capsicum. Cook over low-medium heat until softened. Add chilli and Tabasco sauce. Remove from the heat, set aside to cool.
Mix onion mixture with the mashed potato, baked beans and parsley until thoroughly combined. Season with salt and pepper.
Place breadcrumbs into large bowl. Divide potato mixture into 8 equal portions and coat each one with breadcrumbs. Form into balls then flatten slightly into burgers. Cover and chill for 30 minutes.
Heat a little oil in a shallow, non-stick frying pan and cook the bean burgers in batches for 3 minutes on each side or until heated through and slightly crisp. Drain well on kitchen paper.
Halve and toast the rolls. Top each base with salad leaves, slice of tomato and a burger and serve with tomato or chilli sauce.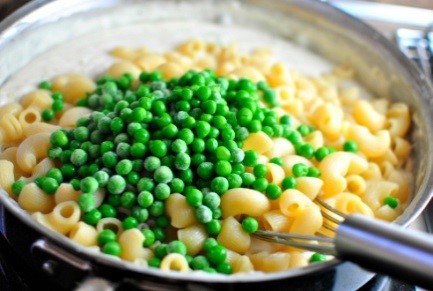 MACARONI WITH BUTTERED PEAS
Ingredients:
1 pkt (400g) pasta
420g frozen or drained canned peas
60g butter or margarine
Method:
Bring a medium saucepan of salted water to the boil and add pasta. Cook according to the packet directions.
When there are 3 minutes remaining add peas and cook until pasta is just tender.
Drain and return to the saucepan with the butter. Stir to crush the peas a little. Taste and season.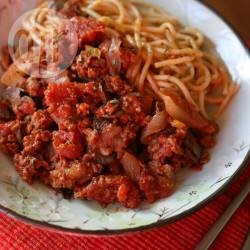 Ingredients:
2 tbsp olive oil
500g lean minced beef
1 large onion, finely chopped
1 carrot, finely chopped
2 celery sticks, finely chopped
4 garlic cloves, crushed
400g can chopped tomatoes
450g jar tomato pasta sauce
Good pinch of dried oregano, or to taste
400g spaghetti or other pasta
Grated Parmesan (or tasty) cheese
Method:
Heat a wok or large, deep frying pan with the olive oil.

Add mince and stir-fry on high heat for 2 minutes to brown.

Add onion, carrot, celery and garlic.

Stir over medium heat for 1 minute, then add chopped tomatoes and the pasta sauce.

Stir well, then add oregano and seasoning.

Cook over medium heat so the sauce boils gently, stirring occasionally, for 15 minutes or until thick.

While the sauce is cooking, cook the spaghetti in a pan according to the pack instructions, until tender with a bite at the centre.

Drain and turn into a warmed serving bowl.
Taste the sauce and adjust the seasoning, then pour over the hot pasta.

Toss gently and serve immediately with grated Parmesan cheese.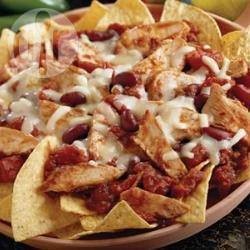 Ingredients:
1 pack corn chips
1 can (420g) baked beans
1 cup chopped tomatoes
1 cup chopped onion
1 cup of pineapple pieces or grated zucchini
1 ½ cups grated mozzarella or tasty cheese
salt, pepper, oregano to taste
Method:
Arrange the corn chips at the bottom of the baking dish
Spread vegetables and then baked beans over the nachos.
Bake in the oven at 180c for 5 mins, or until cheese has melted.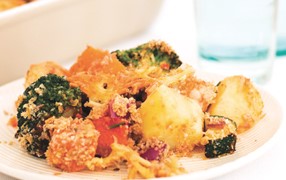 Ingredients:
2 large potatoes, peeled and chopped
1 large sweet potato, peeled and chopped
100g cauliflower, cut into florets
1 zucchini, thickly sliced
1 can (425g) chopped tomatoes
1 red onion, chopped
2 cloves garlic, finely chopped
1 sprig rosemary, leaves removed and chopped
2 Weet Bix, crushed
½ cup wholegrain breadcrumbs
½ cup reduced-fat grated tasty cheese
Method:
Pre-heat oven to 200°C. Bring a large saucepan of water to the boil. Add potato and sweet potato and cook for 10 minutes.
Add cauliflower, broccoli and zucchini and cook for a further 2 minutes, then drain well.
Place vegetables in a bowl and mix through tomatoes, onion, garlic and rosemary. Pour into an oven proof dish.
Combine Weet-Bix and breadcrumbs together and sprinkle over vegetables. Top with cheese and bake for 15 minutes or until golden brown.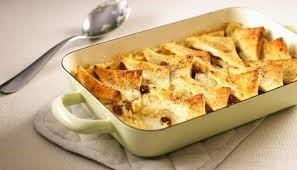 Ingredients:
½ cup (100g) sugar
1 teaspoon ground cinnamon (optional)
5 slices of any bread
Butter or margarine
Jam
500ml milk
2 eggs
Method:
Preheat oven to 190 C. Lightly grease a baking dish.
Mix the milk, eggs and sugar together and whisk.
Add cinnamon.
Butter each slice of bread, thinly spread with jam and cut in half.
Layer the bread in the dish.
Pour milk/egg mixture over the bread and leave to absorb for 10 minutes.
Bake in the oven for 35 to 45 minutes, until the pudding is set and browned.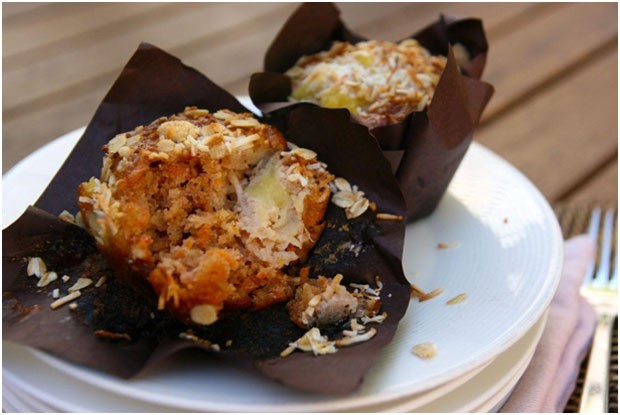 BANANA APPLE, CARROT & WEETBIX MUFFINS
Ingredients:
2 ripe bananas, mashed
1 green apple, grated
1 large carrot, grated
2 eggs
100g butter, melted
¾ cup milk
½ cup shredded coconut
3 Weet-Bix, crushed
1 ½ cups self raising flour
2 tsp cinnamon
⅓ cup sugar
Method:
Preheat oven to 180°C.
Line a 12 hole muffin tin with baking papers (or grease and flour).
Combine the bananas, apple, carrot, eggs, butter and milk in a large mixing bowl.
Add the coconut, Weet-Bix, flour, cinnamon and sugar and fold gently into batter until well combined.
Pour the batter into the prepared muffin tin.
Bake for 25-30 minutes, or until golden and cooked through.